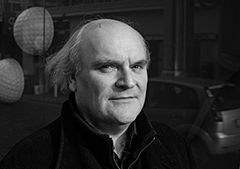 Wolfgang Zurborn, Photographer
Wolfgang Zurborn was born 1956 in Ludwigshafen / Rhein, Germany. He became fascinated by photography at an early age and studied at the Bavarian State School of Photography in Munich from 1977 to 1979 and at the University of Applied Sciences in Dortmund under Professor Hans Meyer-Veden from 1979 to 1984. In 1985 he was awarded the Otto-Steinert-Fellowship by Deutsche Gesellschaft für Photographie, DGPh (German Society of Photography) to support his project, "Menschenbilder – Bildermenschen" ("People Pictures – Picture People"), that he presented 1987 at the Folkwang Museum in Essen. In 2008 he received the German Photo Book Award for his Publication "Drift".
Zurborn has had numerous solo shows of his work in many European countries and in the United States of America. The Goethe Institute in Atlanta exhibited his pictures as part of their series "Photography in German Contemporary Art". The Blue Sky Gallery in Portland, Oregon, and the Photographs Do Not Bend Gallery in Dallas, Texas, have shown photographs from his book "Drift" in 2007. Haus der Photographie, Deichtorhallen Hamburg, presented an overview on the work of Wolfgang Zurborn with his early b&w-photographs from the 80s and the series "Drift" and "China! Which China?" in 2009.
The exhibition tour of his previous project, dressur real, included presentations at Prospekto Gallery, Vilnius, Lithuania, Galeria FF, Lódz, Poland, Dokument 03, Sundsvall, Sweden, 6. Internationale Fototage Herten, Germany, and the International Meetings of Photography in Plovdiv, Bulgaria.
In 1994 the Centre Régional de la Photographie Nord, Pas de Calais in Douchy les Mines, France, invited him to realise a photographic project in the context of their book and exhibition series Mission "Photographique Transmanche" concerning the influence of the Eurotunnel in this region. His work "Au centre de la vitesse" ("In the Centre of the Speed"), has been presented by Gallery Lichtblick at the DuMont Kunsthalle in Cologne, during the Fotomanifestatie Eindhoven festival in Holland and in the group show "Luoghi Come Paesaggi" at Galleria degli Ufizi in Florence, Italy.
Photographs from his last monographic book Catch were exhibited 2015 at Kunstmuseum Moritzburg Halle (Saale), at NEUE GALERIE IM HÖHMANNHAUS, Augsburg and during RAY 2015. Fotografieprojekte Frankfurt/RheinMain at Museum Angewandte Kunst Frankfurt. 2018 they will be part of the show Street.Life.Photography – From Arbus to Zurborn at Deichtorhallen Hasmburg during Triennale der Photographie.
Zurborn has participated in important group shows including the exhibition of 20th century German photography curated by Klaus Honnef and Gabriele Honnef-Harling "Von Körpern und anderen Dingen" ("On the Body and Other Things"), in Prague, Moscow, Berlin and Bochum during 2003 and 2004 and "Prospect Photographie", curated by Peter Weiermair at the Frankfurter Kunstverein in 1989.
In addition to making and exhibiting his own artwork, Wolfgang Zurborn is continually interested in communicating the richness of contemporary photography in its various forms. Together with Tina Schelhorn he has directed Gallery Lichtblick in Cologne for nearly thirty years and has presented over 170 exhibitions of international photography. In 2010 he founded the Lichtblick School in Cologne. Since 1998 he is a member of the board of directors of Deutsche Fotografische Akademie, DFA (German Photographic Academy).
He also teaches photography at schools and universities in Bremen, Berlin and Braunschweig and leads workshops in Florence, Italy, and Liptovsky Mikulas, Slovakia. In cooperation with the German House of Research and Innovation he organized 2012/13 master classes with young Indian photographers in Ahmedabad and Kolkata. The results of these workshops and his own photographs from India were presented 2014/15 at Indira Gandhi National Centre for the Arts in New Delhi and at Rabindranath Tagore Centre, Indian Council for Cultural Relations (ICCR) in Kolkata.
_____________________________________________________________________________________
Links:
Deutsche Fotografische Akademie
Deutsche Gesellschaft für Photographie