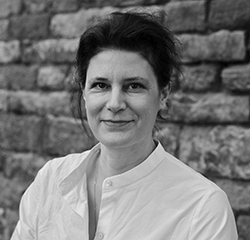 Dr. Kassandra Nakas
Studium der Kunstgeschichte mit architekturhistorischem Schwerpunkt an der Freien Universität Berlin, dort auch Promotion mit einer Arbeit zum Fotokonzeptualismus der 1960er bis 1980er Jahre. Wissenschaftliches Volontariat an der Staatsgalerie Stuttgart, kuratorische Tätigkeiten u.a. für das Berliner Künstlerprogramm des DAAD und die Staatlichen Museen zu Berlin. 2007 bis 2015 wissenschaftliche Mitarbeiterin, 2015-2016 Gastprofessorin an der Universität der Künste Berlin. Lehrtätigkeit an der Leuphana Universität Lüneburg, der Köln International School of Design (KISD) und am IMD_Institute of Media and Design der TU Braunschweig.
Arbeitsschwerpunkte liegen an der Schnittstelle von zeitgenössischer Kunst, Architektur und Design, Naturbegriffen in der zeitgenössischen Architektur und Kunst und im Verhältnis von (Neuem) Materialismus und Körperbildern vom 19. Jahrhundert bis in die Gegenwart.
________________________________________________________________________________
Lehrveranstaltungen am IMD seit WS 2016/17
Gefördert durch das BRAUNSCHWEIGER ZENTRUM FÜR GENDER STUDIES
• Are We Human? Der Körper (und seine Überschreitung) in zeitgenössischer Architektur, Kunst und Design
• Raum-Besetzungen. Das Interieur als Wohnraum, Motiv und Metapher
• Raum-Befragungen: Architektur und/als Kunst
• Neue Materialismen in Architektur und Kunst
________________________________________________________________________________
Publikationen (Auswahl) _Monografien und Herausgeberschaften
• Verflüssigungen. Ästhetische und semantische Dimensionen eines Topos, Paderborn, München: Fink 2015 (Hg.)
• Scenes of the Obscene. The Non-Representable in Art and Visual Culture, Middle Ages to Today, Weimar: VDG 2014 (Hg., mit Jessica Ullrich)
• Hyper Cities / Über Städte. Ausst.-Kat. DAAD und Museum für Asiatische Kunst, Staatliche Museen zu Berlin, 2007 (Hg.)
• The Atlas Group (1989-2004). A Project by Walid Raad, Köln: Walther König 2006 (Hg., mit Britta Schmitz)
• From Fact to Fiction. Zum Funktions- und Statuswandel der Fotografie seit der Konzeptkunst, Frankfurt/M.: Lang 2006
________________________________________________________________________________
Jüngere Aufsätze
• "SANAA's playtime. Communication and interaction in Kazuyo Sejima's and Ryue Nishizawa's architectural drawings", in: Drawing Millions of Plans, ed. Anna Katrine Hougaard and Martin Søberg (conference proceedings, Royal Danish Academy of Fine Arts (KADK), Copenhagen 2017 (in Vorbereitung)
• "Texte, Fiktionen und die Diskursivität der Architektur", in: "Media Agency. 
Practices of decoding and encoding contemporary architectural media", hg. von Christophe Barlieb und Lidia Gasperoni (in Vorbereitung)
• "Die Geschichte der Natur und die Gegenwart der Kunst", in: "Objektivität und Imagination. Naturgeschichte in der Kunst des 20. und 21. Jahrhunderts", hg. von Annerose Kessler und Isabelle Schwarz, Sprengel Museum Hannover (im Erscheinen)
• "Ayşe Erkmen", in: "Displacements: Ayşe Erkmen & Mona Hatoum", Ausst.-Kat. Museum der bildenden Künste Leipzig 2018, hg. von Frédéric Bussmann, S. 69-88 (dt./engl.)
• "F-otografie. Artists and Photographs, 1970", in: "A-Z. Die Sammlung Marzona", Ausst.-Kat. Staatliche Museen zu Berlin, Nationalgalerie im Hamburger Bahnhof 2017, hg. von Lisa Marei Schmidt, unpag.
• "Diffusing sight. Matt Saunders' epistemology of the fluid image", in: "State of Flux. Aesthetics of Fluid Materials", hg. von Friedrich Weltzien und Marcel Finke, Berlin: Reimer 2017, S. 89-103
• "Formwerdung, Formentzug, Formüberschreitung. 'Verflüssigung' bei Michel Leiris", in: "Formwerdung und Formentzug", hg. von Franz Engel und Yannis Hadjinicolaou (Actus et Imago. Berliner Schriften für Bildaktforschung und Verkörperungsphilosophie, Bd. 16), Berlin: De Gruyter, 2016, S. 171-188